Castings - Waste incinerators

Fire grates
Designed especially for stoker furnaces
A stoker furnace typically employs a combination of fixed and movable fire grates arranged in alternating rows on multiple levels. Stoker furnace incinerators are mainly used for waste incineration. Movable grates bring air into contact with a greater proportion of the waste surface for more consistent combustion.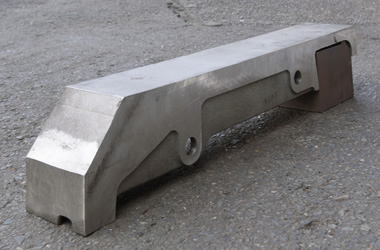 Designed for optimum thermal and wear resistance
Fire grates inside a Stoker furnace incinerator can reach temperatures of 800°C – 1000°C and are constantly on the move. Such a harsh environment demands a very high level of thermal resistance as well as wear resistance.
Ongoing development of designs and materials
Nippon Chuzo has been supplying fire grates for more than 40 years. As operating conditions and environmental regulations continue to evolve, we are constantly exploring new and better designs and materials to keep up with the demands of industry. Our high-quality fire grates are widely used at incineration facilities both in Japan and around the world.