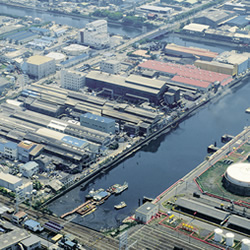 Located in the heart of the Keihin industrial precinct, the Kawasaki factory is Nippon Chuzo's main production facility. It is equipped with an integrated castings production system that encompasses the full range of processes from design through to product assembly.
The manufacturing section has different facilities for mold fabrication, steelmaking, molding, heat treatment, machining and assembly and other processes, all fitted with advanced high-performance manufacturing systems with the capacity to produce a variety of castings in sizes ranging from several kilograms through to huge pieces weighing 50 tons or more. We offer an extensive range of alloy steel materials designed with specific properties such as heat resistance, wear resistance and corrosion resistance, as well as the exciting new low thermal expansion LEX series.
The Kawasaki factory houses the accumulated experience and technical skills of many years of operation and features a stringent quality control system. The facility is used for the design, development and manufacture of an extensive range of bridge construction members including bearing members (typically rubber and steel bearings), high-performance expansion joints with extended travel, and anti-collapse mechanisms, as well as construction materials such as joints and pedestals for spatial structures.